Meet Our Product Formulators
A.J. Lanigan
A.J. Lanigan has decades of experience in various disciplines of immunology. He was educated at the University of South Carolina, College of Pharmacy from 1971-1975. Mr. Lanigan formed his own company in 1980 with a focus on health-related fields. In addition to developing numerous audio and videotapes on health-related issues, he authored the Internet book, "Health in a Pill and Other Medical Myths".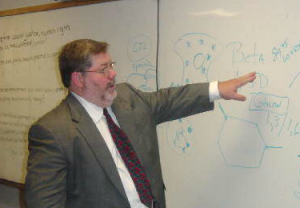 In 1990 he designed and placed in hospitals and medical practices numerous low cost ozone generators suitable for medical use and is considered an expert in ozone therapy and commercial applications of ozone. His research on the effect that medical ozone had on the immune system through increased cytokine production, led him to other experts in the field of immunology.
The research on Beta-1, 3-D glucan, a carbohydrate molecule that enhances the functionality white blood cells such as macrophages, was extensive and the results were impressive. However, the purified beta glucan used in laboratories was prohibitively expensive and economically unfeasible for the average person.
During 1995-1996, A.J. Lanigan developed a manufacturing process for a highly purified beta glucan that would be affordable for the average person.
"I found a material that met my standards and sent a sample to the University of Georgia Complex Carbohydrate Research Center (UGA CCRC) to be assayed. Dr. Parastoo Azadi returned an analysis that showed approximately 94% complex carbohydrate fraction, with about 85% of that being the 1, 3-D glucan backbone.
I have been involved in the manufacture and sale of Beta Glucan products for several years. When I began, only 2 companies were widely selling to consumers. They were twin sisters - both boasting a 2.5 mg dose, in a 30-count bottle, for $39.95. To quote one of their salesmen, "A little bit of beta goes a long way." I tried to purchase the raw material from one of the manufacturers and was quoted $120,000.00 per kilogram (2.2 lbs). Knowing that the raw material did not come from moon rocks, I sought another approach. I had it pilled, bottled, and labeled Beta 1, 3-D glucan. I began to market it in a 100 mg, 60-count bottles and then later, a 425 mg 60-count bottle.
My competitors immediately took me off their Christmas card list. No matter, I breached the market with the first materials available here in the US that served to give a safe product by purity, an effective product by dose, and as affordable as a good "one a day" supplement. Since 1996, other companies have copied (or counterfeited) every move I have made in dose and in some cases, even label design. Every one claims, "Ours is just the same as A.J.´s product.' It was not true then, and it is certainly not true today." - A.J. Lanigan
In 1997, Mr. Lanigan initiated research on Aloe Vera. His primary resource for information became the International Aloe Science Council. His membership and participation in that organization is recognized and appreciated by their members from all over the U.S. and abroad. From 1997 to 1999, Mr. Lanigan aided in establishing an international marketing company that distributed beta glucan, aloe vera, and other products that enhance the immune system. He initiated a massive training program designed to educate the company's sales representatives in immunology.
A.J. lectures extensively; addressing a variety of audiences including hospitals, medical universities, civic centers, and community colleges. He is a routine guest on numerous radio and television talk shows centered around the immune system. Most recently, he has sponsored university-based research that is the first of its kind to competitively compare immune supplements. Not to be surprised, his products are continuously found to be at the top of the heap:
"Since 1996, the Beta 1, 3-D Glucan that I produce has been and continues to be the very best that you can buy. Research published in the Journal of American Nutraceutical Association (JANA) 2007, states that my compound is the only 'relevant' immune modulator. It continues to be my pleasure to provide the ONLY immune supplement you need to buy. It is NOT made in China. It is manufactured in a certified Good Manufacturing Practice (GMP) facility and its Country of Origin Certificate proudly shows the USA.

Over the past 20 years, A.J. Lanigan has become the most productive and respected individual in the advancement of Beta Glucan Science and Education. His groundbreaking research has established the benchmark of what we now know of the Safety and Health Benefits of Beta Glucan. A.J. has led some of the most brilliant researchers of our time to unparalleled accomplishments in developing high-quality products, while continuing to promote the importance of unbiased research. These findings now appear across the globe in peer-reviewed medical journals, books, and academic lectures.

His revolutionary work comprises the backbone for understanding Beta Glucan and How it Maximizes the Immune System. A.J. consistently campaigns the use of evidence-based, peer-reviewed studies to help eliminate confusion in the marketplace; allowing every individual to make the best decisions for their health. Mr. Lanigan continues to teach M.D.s, Ph.D.s, and Health Care Leaders on the inner workings of optimal immunity around the world.

At the Globally Streamed Truth About Cancer Conference, Dr. Robert Scott Bell introduced him as, "either the most-intelligent-funny-guy, or the funniest-intelligent-guy he had ever met."  Today, A.J. advocates that even young children need to understand the basics of natural immune response.



---
Sunil Pai, M.D.
Dr. Pai is an internationally recognized expert in Integrative Medicine, author, radio host, health activist/influencer and thought leader in the wellness industry. After his residency in Family Medicine at the University of New Mexico he became Board Certified in Family Medicine. He was one of the first physicians 20 years ago and youngest in the U.S. to become a Fellow of the Program in Integrative Medicine at University of Arizona (Class 2002) directed by Dr. Andrew Weil, the "father" of Integrative Medicine. Dr. Pai also became one of the first Board Certified MDs in Holistic Integrative Medicine in the U.S.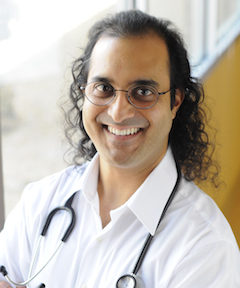 After his Fellowship training, he then studied with and became certified by Dr. Deepak Chopra as a Primordial Sound Meditation Instructor and a Creating Health (Ayurveda Lifestyle) Instructor. Dr. Pai then enhanced his knowledge Ayurvedic Medicine through specialized training at the Sri Dharmasthala Manjunatheshwara College of Ayurveda, and Intensive Yoga Therapies at the Vivekananda Yoga Anusandhana Samsthana in India.  He is currently Senior Faculty at Ayurved Sadhana.
Having trained under the two foremost gurus of natural medicine and mind-body medicine, he then became certified in Functional Medicine, Homotoxicology, Physiological Regulating Medicine and Herbal Medicine. In addition to mastering the fundamentals of these approaches, he went on to expand his services to patients by becoming certified in Medical Acupuncture and Neuro-Acupuncture through Stanford University School of Medicine and from the world's expert in Neuro-Acupuncture, Dr. Jason Hao. From working close with Dr. Hao since 2006, Dr. Pai was elected to be the Vice President of the Neuro-Acupuncture Institute, a non-profit organization focusing on teaching physicians neuro-acupuncture which is focused for pain conditions and neurological dysfunction such as stroke, multiple sclerosis, Parkinson's, traumatic brain injury, cerebral palsy and autism. Dr. Pai was featured in the documentary film A Return To Life (2021) which he describes the benefits of using Neuro-Acupuncture.  Dr. Pai also specializes in Auriculotherapy, a unique system of ear acupuncture that focuses on treatment of both food and inhalant allergies through a treatment called SAAT. He also provides for those with complex allergies Allergy Drops TherapyTM (Sublingual Immunotherapy).  In addition to treatment of inhalant and food allergies, Dr. Pai is provides up-to-date information on clinical nutrition with regards to diet and lifestyle changes and its role in chronic diseases and cancer. Dr. Pai is certified in Plant-Based Nutrition from Cornell University and the T. Colin Campbell Foundation and teaches each patient about the health benefits of eating whole food plant-based diets.
Sunil Pai, MD is a Deacon of the House of Sanjevani Integrative Medicine Health and Lifestyle Center located in Albuquerque, an Integrated Auxiliary of the Priory of Santa Fe.  As a nonprofit organization, they provide full service health education and Integrative Medicine services emphasizing indigenous and natural medicines. Part of this approach encompasses the patient's belief system as an integral part of their health and healing. Sanjevani is also certified by the Physicians Committee for Responsible Medicine (PCRM), as an Educational Alliance Partner for delivering evidence-based, clinical plant-based nutritional programs.
Dr. Pai specializes in the custom formulation of dietary supplements, including vitamins, minerals, Ayurvedic herbs, medical foods, peptides, homeopathics and hemp oil derived CBD (cannabidiols), using safe, clinically effective ingredients. He has been a consultant to various nutraceutical companies as well as functional medicine testing companies. Over the past 22 years, Dr. Pai has studied the processing of raw materials from farm to manufacturing and from the bench top research to clinical studies. His interest in the benefits of natural therapies led to the development of Sanjevani nutraceutical products. Dr. Pai has become internationally recognized by his Sanjevani's flagship product, Bosmeric-SR®, the strongest natural supplement for pain and inflammation support available worldwide. The all-natural, patented ingredients in a unique delivery system provides a bi-layered tablet with an immediate onset of action within 20 minutes and long lasting sustained release over an 8 hour period. Dr. Pai has helped thousands of patients worldwide with his critically acclaimed book An Inflammation Nation The Definitive 10-step Guide to Preventing, Treating and Reversing All Diseases Through Diet, Lifestyle and the Use of Natural Anti-Inflammatories for the prevention and treatment of chronic diseases and cancer. The Forward was written by his mentor and teacher Dr. Andrew Weil. The book was chosen by Kirkus Reviews to be listed in the Best of 2016 Indie Books.
Dr. Pai is also a Clinical Assistant Professor at the Department of Family and Community Medicine at the University of New Mexico School of Medicine and conducts seminars and workshops on a variety of health conditions. Dr. Pai lectures at national conferences and is actively publishing in the field of Integrative Medicine. Dr. Pai is one of a select group of Integrative Medicine physicians in the U.S. and only MD in New Mexico to be published in all five editions of David Rakel's Integrative Medicine [Chapter: "Peripheral Neuropathy"] published by Saunders, and in Benjamin Klinger and Roberta Anne Lee's Integrative Medicine: Principles in Practice [Chapter: "Ayurvedic Medicine"] published by McGraw-Hill. Dr. Pai is also a recognized leader in cannabinoid medicines with frequently magazine interviews and provides medical education lectures on benefits of cannabinoid medicine with noted published articles such as Cancer Strategies Journal titled "Plant Based Diet and Natural Anti-Inflammatories Help, Prevent and Treat Cancer" and "Cannabinoid Medicine From Industrial Hemp Oil: Another Practical and Legal Cannabidiol (CBD) Alternative." With his clinical experience of studying and using hemp oil for a variety of health conditions in his patients, Dr. Pai has consulted for private and public traded companies.  He has assisted in the formulation and launch of super premium hemp oil products, which are organic full and broad spectrum in eco-friendly packaging.  He has formulated products ranging from sublingual tinctures, tablets, topical creams to ice teas, hemp butters and other wellness functional foods blended with natural vitamins, Ayurvedic herbs and other nutraceuticals. Currently he is Chief Medical Officer for Bloom Hemp, one of the first USDA certified organic hemp oil companies in Colorado.
Due to his success with cancer supportive therapies, Dr. Pai has been featured in many internet docu-series including"The Integrative Perspective" (2017), and "The Global Cancer Symposium" (2018). He was the only Integrative Medicine MD to emphasize the benefits of whole foods plant-based diets and the use of only evidence-based natural therapies that has been shown to improve patient's outcomes. Dr. Pai's anti-inflammatory and immune support approach and products have also been featured in a variety of online health summits and programs from Fibromyalgia, Chronic Fatigue, Achieve Optimum Health, and Square One. Most recently Dr. Pai was one of the top plant based experts in the country invited to speak at The Real Truth About Health Conference (2020 and 2021) and is featured in the award winning documentary Cancer: The Integrative Perspective (2020).
Dr. Pai is known for being a health activist/influencer. He is sought out lecturer for speaking about the hidden truths within the food, pharmaceutical and dietary supplement industries. From this demand, Dr. Pai along with Maureen Sutton, LMT RYT AYU PhD launched an podcast called Take Back Your Health! on their House of Sanjevani YouTube channel. Weekly interviews with innovators, thrivers and heroes in all fields of health and wellness will help empower listeners to take back their health with evidence-based solutions through Integrative Medicine.
Dr. Pai consults with clinics in U.S., Curacao, Dubai, Thailand, India, Costa Rica and China on teaching his integrative medicine chronic disease and cancer supportive protocols. Dr. Pai's Integrative Medicine approach, evaluation, products and services are highly used by celebrities, actors, and musicians in the entertainment and music industries as well as professional athletes to improve and maintain their performance and longevity of their careers.  Dr. Pai's hobbies include playing drums, guitar and music trivia and he thus he is known as the "RocDoc". Dr. Pai lives in Albuquerque, New Mexico and his other interests include hiking and walking his dog Princess Winnie, plant based cooking and yoga.