Meet Our Beta Glucan Formulator
A.J. Lanigan
A.J. Lanigan has decades of experience in various disciplines of immunology. He was educated at the University of South Carolina, College of Pharmacy from 1971-1975. Mr. Lanigan formed his own company in 1980 with a focus on health-related fields. In addition to developing numerous audio and videotapes on health-related issues, he authored the Internet book, "Health in a Pill and Other Medical Myths".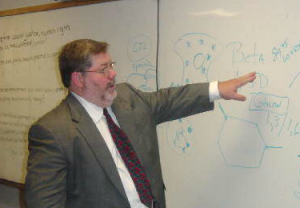 In 1990 he designed and placed in hospitals and medical practices numerous low-cost ozone generators suitable for medical use and is considered an expert in ozone therapy and commercial applications of ozone. His research on the effect that medical ozone had on the immune system through increased cytokine production, led him to other experts in the field of immunology.
The research on Beta-1, 3-D glucan, a carbohydrate molecule that enhances the functionality of white blood cells such as macrophages, was extensive and the results were impressive. However, the purified beta glucan used in laboratories was prohibitively expensive and economically unfeasible for the average person.
During 1995-1996, A.J. Lanigan developed a manufacturing process for a highly purified beta glucan that would be affordable for the average person.
"I found a material that met my standards and sent a sample to the University of Georgia Complex Carbohydrate Research Center (UGA CCRC) to be assayed. Dr. Parastoo Azadi returned an analysis that showed approximately 94% complex carbohydrate fraction, with about 85% of that being the 1, 3-D glucan backbone.
I have been involved in the manufacture and sale of Beta Glucan products for several years. When I began, only 2 companies were widely selling to consumers. They were twin sisters - both boasting a 2.5 mg dose, in a 30-count bottle, for $39.95. To quote one of their salesmen, "A little bit of beta goes a long way." I tried to purchase the raw material from one of the manufacturers and was quoted $120,000.00 per kilogram (2.2 lbs). Knowing that the raw material did not come from moon rocks, I sought another approach. I had it pilled, bottled and labeled Beta 1, 3-D glucan. I began to market it in 100 mg, 60-count bottles and then later, a 425 mg 60-count bottle.
My competitors immediately took me off their Christmas card list. No matter, I breached the market with the first materials available here in the US that served to give a safe product by purity, an effective product by dose, and as affordable as a good "one a day" supplement. Since 1996, other companies have copied (or counterfeited) every move I have made in the dose and in some cases, even label design. Everyone claims, "Ours is just the same as A.J.´s product.' It was not true then, and it is certainly not true today." - A.J. Lanigan
In 1997, Mr. Lanigan initiated research on Aloe Vera. His primary resource for information became the International Aloe Science Council. His membership and participation in that organization is recognized and appreciated by its members from all over the U.S. and abroad. From 1997 to 1999, Mr. Lanigan aided in establishing an international marketing company that distributed beta glucan, aloe vera, and other products that enhance the immune system. He initiated a massive training program designed to educate the company's sales representatives in immunology.
A.J. lectures extensively; addressing a variety of audiences including hospitals, medical universities, civic centers, and community colleges. He is a routine guest on numerous radio and television talk shows centered around the immune system. Most recently, he has sponsored university-based research that is the first of its kind to competitively compare immune supplements. Not to be surprised, his products are continuously found to be at the top of the heap:
"Since 1996, the Beta 1, 3-D Glucan that I produce has been and continues to be the very best that you can buy. Research published in the Journal of American Nutraceutical Association (JANA) 2007, states that my compound is the only 'relevant' immune modulator. It continues to be my pleasure to provide the ONLY immune supplement you need to buy. It is NOT made in China. It is manufactured in a certified Good Manufacturing Practice (GMP) facility and its Country of Origin Certificate proudly shows the USA.

Over the past 20 years, A.J. Lanigan has become the most productive and respected individual in the advancement of Beta Glucan Science and Education. His groundbreaking research has established the benchmark of what we now know of the Safety and Health Benefits of Beta Glucan. A.J. has led some of the most brilliant researchers of our time to unparalleled accomplishments in developing high-quality products while continuing to promote the importance of unbiased research. These findings now appear across the globe in peer-reviewed medical journals, books, and academic lectures.

His revolutionary work comprises the backbone for understanding Beta Glucan and How it Maximizes the Immune System. A.J. consistently campaigns the use of evidence-based, peer-reviewed studies to help eliminate confusion in the marketplace; allowing every individual to make the best decisions for their health. Mr. Lanigan continues to teach M.D.s, Ph.D.s, and Health Care Leaders on the inner workings of optimal immunity around the world.

At the Globally Streamed Truth About Cancer Conference, Dr. Robert Scott Bell introduced him as, "either the most-intelligent-funny-guy or the funniest-intelligent-guy he had ever met."  Today, A.J. advocates that even young children need to understand the basics of a natural immune response.


---